AXT are excited to strengthen ties with the growing additive manufacturing sector by partnering with AMAZEMET. Founded in 2019, AMAZEMET design and manufacture systems for those involved with metal additive manufacturing, with products supporting everything from R&D to small-scale industrial scale production.
AMAZEMET is a spin-off of the Warsaw University of Technology. They successfully transferred ultrasonic atomization technology, along with expertise in automated support removal and post 3D printing heat treatment, into state-of-the-art devices that are part of its portfolio, with systems now in action at institutions all over the world.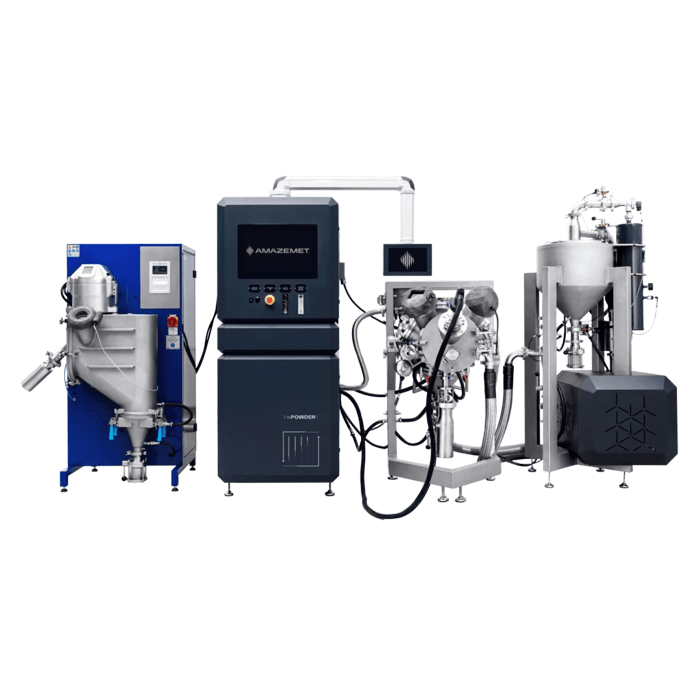 Their flagship system, rePowder is a fully customizable, modular designed system optimized to economically produce small quantities of highly spherical metal powders with narrow size distributions and free flowing characteristics, perfect for metal additive manufacturing. Using a unique process called ultrasonic atomization, rePowder can produce powders from virtually any feedstock including recycled materials, much more cost-effectively and efficiently compared to gas atomization. This makes it ideal for R&D where you might be trying to optimize or experiment with a specific powder composition or only require a small quantity of powder for a particular job.
Their other products safeEtch and inFurner support metal 3D printing post-processing. safeEtch is a system that uses a patented chemical solution to remove supports from metal prints quickly and easily, producing a high-quality polished surface. inFurner is a compact vacuum furnace suited to the post-heat treatment of 3D printed metal parts as well as the heat treatment of other materials requiring a controlled atmosphere.

Richard Trett, AXT's Managing Director said, "3D printing is an extremely dynamic sector and we are excited by the prospect of becoming more involved by partnering with AMAZEMET to assist Australian researchers and companies to accelerate their development projects."

Łukasz Żrodowski, AMAZEMET CEO responded, "We are currently experiencing rapid growth with systems being installed all around the world. It made sense for us to look at the Australian market and we are proud to partner with AXT on this journey which I am sure will yield results in the short term."

You can speak to AXT about AMAZEMET's range of products for metal 3D printing at the upcoming APICAM additive manufacturing conference in Sydney (June 21-23). Alternatively, please visit axt.com.au, where AMAZEMET's products will augment AXT's other 3D printing systems and related microscopy, metrology and computed tomography (CT) products lines.