DELMIC launches METEOR, a new fluorescence microscope (FM) that can be integrated into a cryo focused ion beam (FIB)/ scanning electron microscope (SEM). METEOR streamlines the entire TEM lamella specimen preparation process by eliminating complicated transfer steps. This increases sample yield and efficiency during lamella preparation, which brings significant benefits for cryo electron tomography (cryo-ET) workflows.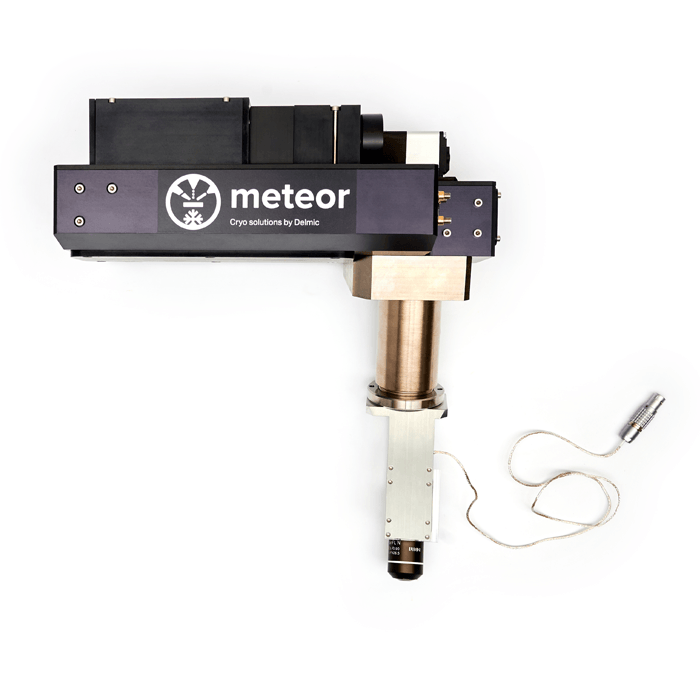 Aimed specifically at life science researchers, METEOR can be integrated into existing workflows and overcomes challenges with current cryogenic electron tomography (cryo-ET) methodologies by protecting fragile samples from unnecessary sample damage. The fully integrated design dramatically reduces the number of transfer steps between light and electron microscopes. This minimises the chances of accidental mechanical or devitrification damage and specimen contamination, while at the same time simplifying and accelerating the process, resulting in increased productivity.
Another advantage of the METEOR system is its ability to confirm the presence of the region of interest (ROI) in the lamella during and directly after FIB milling through FM. Again, the integrated nature of METEOR provides this capability in situ, while also offering CLEM (Correlative Light and Electron Microscopy) imaging.
The integrated system configuration brings obvious improvements in XY correlation with both systems using the same stage. It also allows researchers to more easily target ROIs using the FM within the FIB/SEM chamber. Furthermore, improved FM images for CLEM are made possible by milling away out of focus materials, effectively achieving super resolution in Z.

"METEOR is the first commercially available integrated cryo correlative light and electron microscopy (CLEM) module. Our goal is to help life sciences scientists collect useful data through cryo-ET more easily and gain insights into biological processes more quickly," says Dr. Katherine Lau, Business Unit Owner at Delmic Cryo.
METEOR can be retrofitted to many existing FIB/SEMs and now available for sale through AXT, Delmic's distributor in Australia and New Zealand.