AXT is proud to bring the range of ultra-high resolution 3D printers from Boston Micro Fabrication (BMF) to Australia and New Zealand. Using Projection Micro Stereolithography (PµSL) technology, these printers can achieve resolutions down to 2µm, micro fabricating at high speeds making them ideal for economical rapid prototyping and industrial scale production of parts too complex for more traditional production technologies.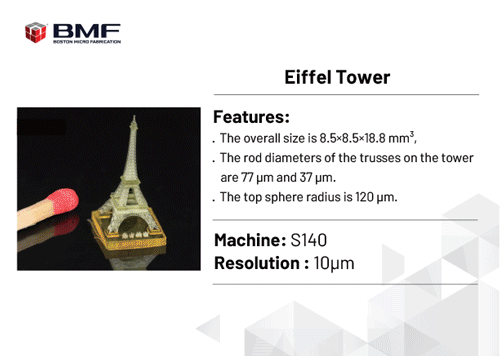 BMF are the world leaders in micro-precision 3D printing. Their range of printers have been designed with industrial and academic applications with the capability of printing true microstructures with ultra-high printing resolution (2µm~25µm) and printing tolerance (±10µm ~ ± 25µm). 
Their PµSL technology enables printing of ultra-high resolution, accuracy and precision allowing for more intricate, exact and replicable parts going beyond the limits more conventional techniques like high-resolution injection moulding and CNC machining. Furthermore, their easy to program open system is compatible with a broad range of specially formulated liquid resins or your own blend so you can create any 3D structure that your desire.
Chris Jianlin Zhou, General Manager of the Asian Pacific Business Unit of Boston Micro Fabrication said, "our 3D printers have gained excellent acceptance around the world in areas such as medical devices, electronics, microfluidics and MEMS to name but a few. Expanding into Australia where technology is rapidly accepted was a natural progression for us and we are pleased to partner with AXT for this next stage in our growth." 
Richard Trett, Managing Director at AXT commented, "additive manufacturing is a rapidly growing field with broad applicability. We are proud to partner with BMF to bring their instruments to Australia, where they will complement our existing range of 3D printers and bioprinters'.
For more information on BMF's range of 3D printers, please visit https://www.axt.com.au/products/microarch-industrial-micro-precision-3d-printers/