3D bioprinting is experiencing rapid growth as the technology continues to evolve. Academic researchers and commercial organisations employ the technology for a range of applications including tissue engineering, regenerative medicine, drug discovery, personalised medicine and more. This is certainly the case in Australia and AXT, who are already well entrenched in the field are pleased to announce that they are strengthening their position by partnering with CELLINK.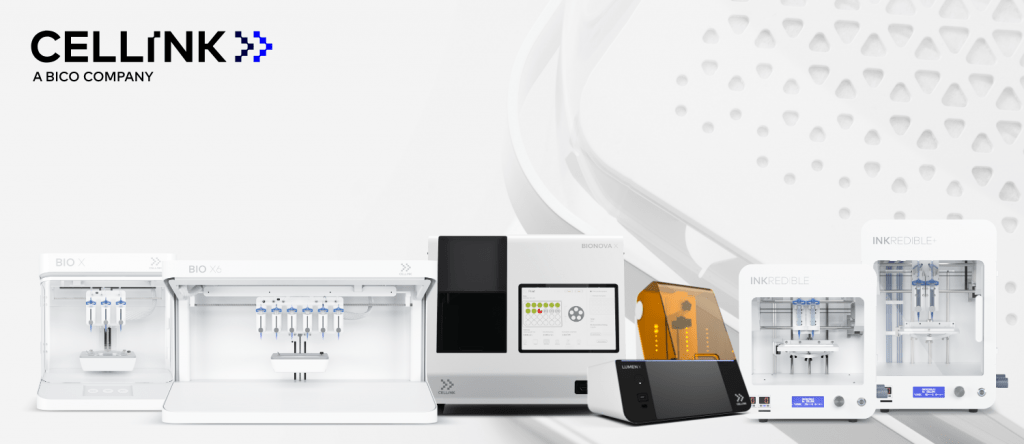 CELLINK are leaders in 3D bioprinting with a range of light and extrusion-based bioprinters. Today CELLINK boast over 1600 installations (including several in Australia) in over 60 countries and are featured in more than 1200 publications. Their portfolio of bioprinters is supported by a range of bioinks that allow researchers to push the limits of medical research.
CELLINK's product lineup is headlined by the BIONOVA X, a high-throughput system powered by Digital Light Processing (DLP) technology that allows printing of high-resolution complex structures at high-speed. The LUMEN X DLP bioprinter offers users precision and versatility. For researchers looking for extrusion-based bioprinters, the modular BIO X series allow simultaneous printing using up to six bioinks. The popular INKREDIBLE extrusion bioprinters round out their range at a cost-effective price point.
Richard Trett, AXT's Managing Director commented, "Australia has a vibrant growing biomedical research community and bioprinting is a key enabling technology moving rapidly from theoretical research to applied solutions. We already have leading technologies in single cell and biomaterials printing, partnering with CELLINK to extend our bioprinting offering made so much commercial sense that we jumped at opportunity to work with them".
Tomoko Bylund, Head of Sales – APAC went further to say, "We are experiencing rapid growth in bioprinting adoption around the world. We could not adequately support the Australian market from abroad and it made sense for us to partner with local-based AXT who are already well established in the field."
With the addition of CELLINK's bioprinters to their portfolio, AXT are now the premiere supplier of bioprinters in Australia and New Zealand. For more details about AXT's bioprinting portfolio, including new CELLINK product lines, please visit www.axt.com.au/segments/lifesciences-bioprinting/