The Victor Chang Cardiac Research Institute is one of the most respected medical research facilities in the world, dedicated to finding cures for cardiovascular disease. They are renowned for the quality of their scientific discoveries and are dedicated to finding cures for cardiovascular disease through world-class and cutting-edge medical research made possible by leading researchers with access to the latest technologies.
Professor Diane Fatkin is a molecular cardiologist who leads a research team focussed on inherited heart diseases, particularly familial forms of dilated cardiomyopathy and atrial fibrillation. To help further their research, they have studied Zebrafish with a state-of-the-art 7T dry magnet MRI from MR Solutions in the VCCRI-Innovation Centre.
The quality of their research was highlighted with their recent submission for the MR Solutions – Image of the Year 2023 competition where they took out 3rd place, amongst entries from leading research institutions from around the world.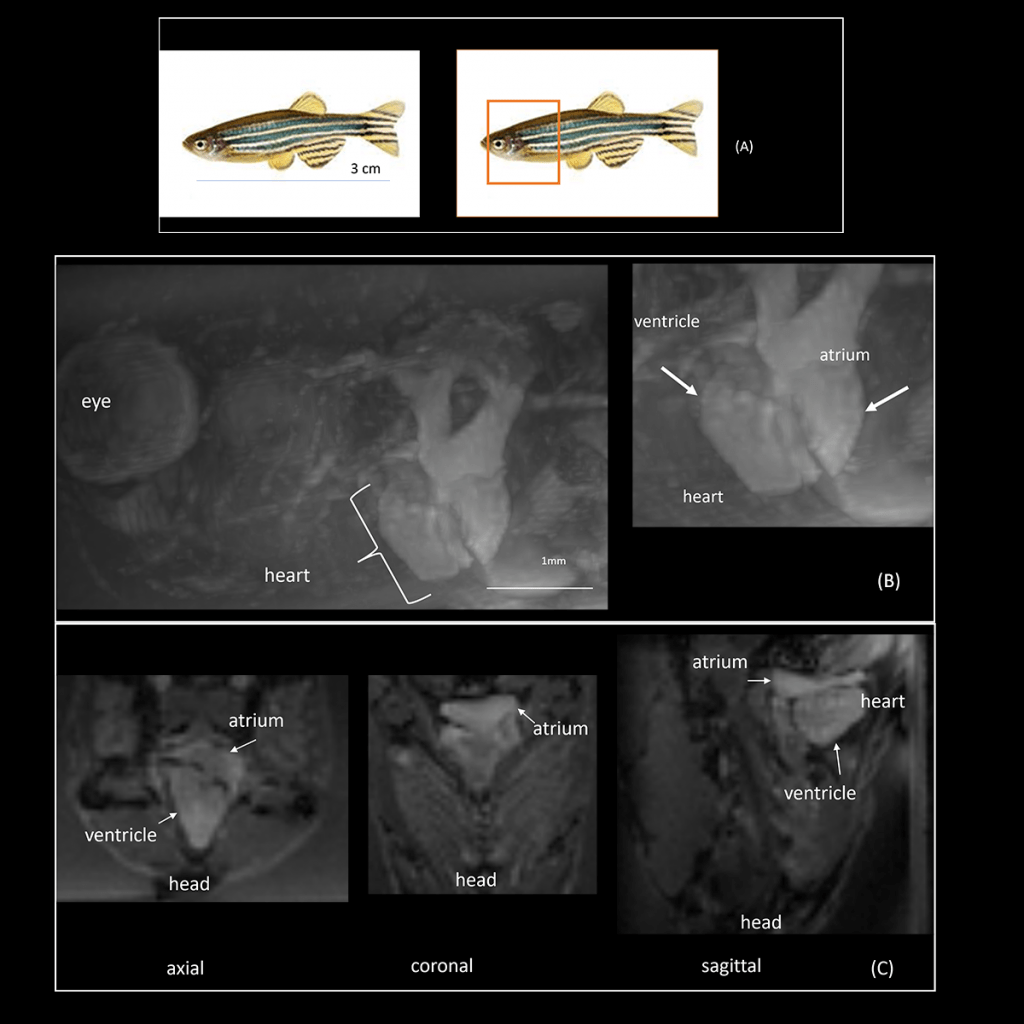 Submission Details
This 3-D reconstruction depicts a fixed adult zebrafish obtained using an RF coil custom-designed for zebrafish MRI by MR Solutions. Notably, the entire adult zebrafish heart can be visualised in vivo in this reconstruction.
The Inherited Heart Disease Lab lab uses adult zebrafish to study how genetic variants cause dilated cardiomyopathy, a common heart muscle disorder. While larval zebrafish are famously transparent, this transparency is lost in adulthood, making studying the adult cardiovascular system and adult-onset heart diseases challenging. Collaborating with MR Solutions is enabling them to overcome this challenge and push the envelope of zebrafish heart research by investigating cardiac structure and function simultaneously over longitudinal periods in vivo, in real time.
They hope to use zebrafish cardiovascular MRI to investigate how different genetic variants impact heart structure and function over time, providing valuable insights into disease progression in affected patients.
Researchers
Project Lead: Dr. C. F. Santiago
Lab: Prof D Fatkin
MRI: Drs N Sunn & X Feng