Etaluma, designers and manufacturers of the world's most compact and robust inverted microscopes for live cell imaging continue to set the standard with the release of the Lumanette. The Lumanette redefines what is possible for an in situ incubator microscope.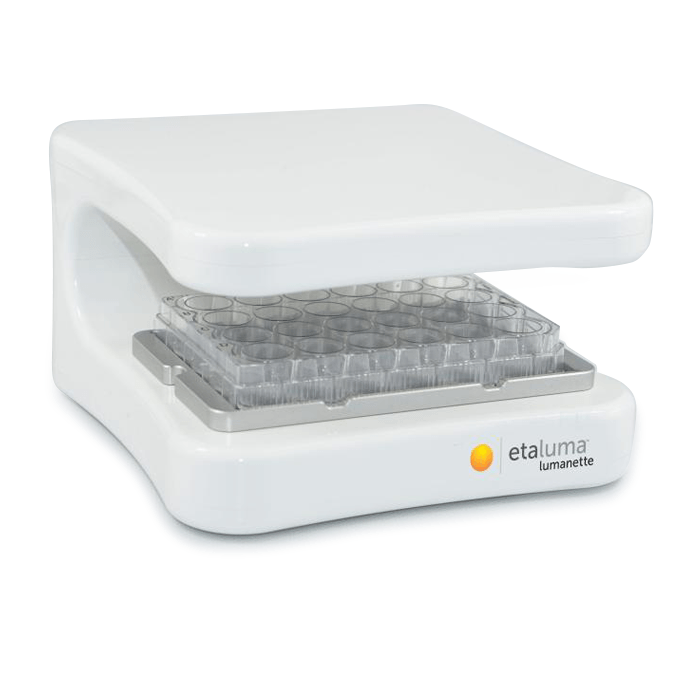 Providing real-time live cell imaging, Lumanette allows multiple position viewing, time lapse movies and live cell assay data to be generated direct from your incubator. With the ability to be used with your own incubator and computer it provides an extremely cost-efficient pathway to study your cells without the need for expensive microscopes or core facilities. Using a free software package and USB cable, adding live cell imaging capabilities to your incubator could not be simpler.
The Lumanette provides 24 individual 10x imagers for straightforward time lapse experiments in 24 and 6-well microplates as well as flasks and dishes in a system with a footprint not much larger than a standard cell culture plate. Its' diminutive size means it doesn't take up valuable incubator space, or you can even have multiple Lumanette's in the same incubator. The thoughtful sealed construction makes it easily sterilisable using common disinfectants, ideal for use in cleanrooms and with infectious diseases.
Simple analysis routines for cell coverage and counting are included and provide real time data and chart visualisation. Meanwhile, brightfield, darkfield and even digital phase contrast imaging modes are available via the LED light sources.
Live cell imaging with the Lumanette enables the simple automation of routine cell culture applications making it ideal for drug development, virology, cancer research and in vitro cytotoxicity and biocompatibility essays. Other key areas where Lumanette will benefit researchers include the analysis cell growth, comparison and analysis of extracellular conditions and migration or scratch assays and Stem cell observations.
"The solid state and robust design make the Lumanette's addition to Etaluma's Lumascope product line a natural for those customers without the need for higher magnification or fluorescence microscopy" said Chris Shumate, CEO of Etaluma.