The mechanism of how cells work is key to understanding how tumours metastasize as well as tissue regeneration and other bodily functions. The process of mechanotransduction, or how a cell converts a physical stimuli into an electrical response is fundamental to these understandings.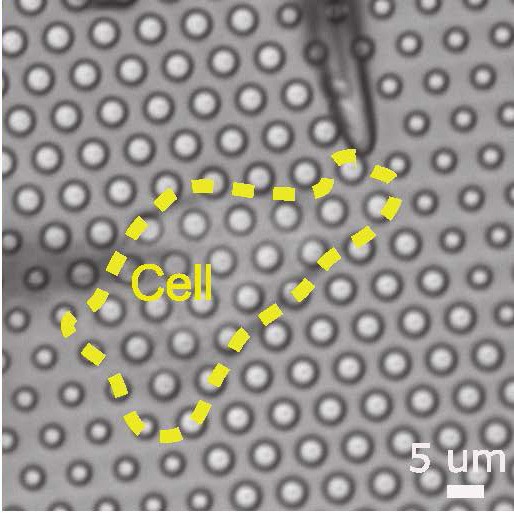 Dr. Kate Poole at the Department of Physiology at UNSW is a leader in the field of mechanotransduction. Her team also works with the EMBL (European Molecular Biology Laboratory) Australia node for Single Molecule Science and are carrying out cutting-edge research into the molecules that are produced following exposure to a mechanical stimulus and how they interpret these molecules.
One of the challenging parts of her research is to be able to "poke" cells in a precise and repeatable fashion at the cellular level that replicates physiological conditions. To achieve this, she grows cells on a pillar array, akin to a microscopic bed of nails. She can then poke the cells using individual pillars using a piezo controlled nanomanipulator that is gentle enough to apply a specific load without rupturing the cell membrane.
The research that Dr. Poole is performing at UNSW takes work that she did during her postdoctoral research at the Max Delbrück Center for Molecular Medicine in Berlin to the next level. In her lab there, they used a Kleindiek MM3A-LM nanomanipulator and she said, "the setup worked incredibly well" and "there was no way that I was going to use anything that wasn't the Kleindiek". So, her lab in Australia, is now equipped with the two of the same nanomanipulators.
"the setup worked incredibly well and there was no way that I was going to use anything that wasn't the Kleindiek "

Dr. Kate Poole, Department of Physiology at UNSW
While her work on cell biology is broadly applicable in medical research, she chooses to focus on two main areas:
How cells in cartilage respond to mechanical stimuli which has relevance to osteoarthritis, a degenerative condition that affects 1 in 11 Australians or over 2.1 million people
How cells that migrate through the body sense the mechanics of their surroundings which will provide insights into how cancer cells divide and spread
Both of these areas of research are of great relevance to Australia with over 2 million Australians suffering from osteoarthritis (2015 data from the Australian Institute of Health and Welfare), while Australia having the highest incidence of melanoma in the world (Melanoma Institute of Australia).