Hirox, based in Japan and pioneers of 3D digital microscopy, have improved their latest system, the RH-2000, by adding surface profilometry capabilities. With new white light confocal profilometer it now offers ultrafast profiling with submicron Z precision making it a powerful metrology tool.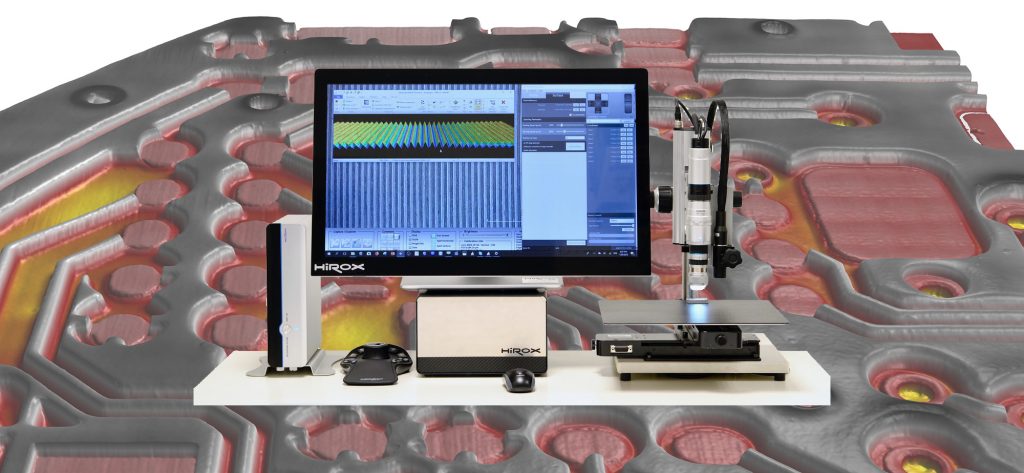 These new metrology capabilities are made possible by an innovative NPS non-contact confocal 3D profilometer that measures changes in height in real-time making it suitable for profile or surface scanning. It can scan in two modes:
1 axis high-speed scanning – creates a profile and determines height, distance, radius, roughness and more in just a few seconds
High resolution 2 axis surface scanning – Made possible by combining a series of 1D profiles to create high resolution 3D surfaces enabling determination of volume, surface roughness, 3D waviness etc.
White light chromatic confocal technology is ISO certified for roughness measurement and is currently used by many companies and research centres all over the world. The system employed on the Hirox RH-2000 allows high precision XYZ axis measurement beyond the limitation of optical depth of field over wide areas without the need for stitching. It enables a wide range of measurements such as roughness, shape, thickness, height and topography with reports being automatically generated. Automated analysis is now also possible according to pass/fail criteria making it ideal for quality control laboratories.
The confocal system does not rely on the microscope optics and can take measurements from points outside the focal plane. Furthermore, it caters for all sample types including shiny, reflective, rough, opaque or transparent. This makes it suitable for almost any application from all areas of engineering, through to electronics, art, archaeology and forensics.
These features come addition to the already comprehensive features of the RH-2000 3D digital microscope that offers the highest optical power of any light microscope (0.1 to 10,000x magnification). Its automated operation combined with flexible design, vast range of lenses, lighting technologies, stands and stages have seen it become the preferred solution across many different industries and research disciplines.