Battery Operated Wireless Microfocus X-Ray Generators for Industrial NDT
X-RIS have introduced the first battery wireless microfocus X-ray generator for industrial NDT applications providing high-resolution imaging.
Building on the success of the fully portable GEMX X-ray generators, X-RIS have released the µGEMX, microfocus X-ray generators. With output X-ray power up to 140kV, the µGEM generators offer all the practical features of the µGEMX series with a focal spot size of 0.2mm (ASTM E1165-12) which provides you with high spatial resolution and the additional inspection capabilities come with it.
Specifications
| | |
| --- | --- |
| Selectable kV: 50 to 140 kV | Oil insulated |
| Selectable mA: 0,1 - 2mA | Mains or battery powered |
| Constant potential | 360° handle |
| Focal spot: 0.2mm (ASTM E1165-12, BAM approved) | Controlled via ethernet or wifi |
| Beam angle: 45° x 45° | 14kg |
Microfocus Capabilities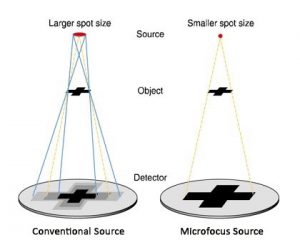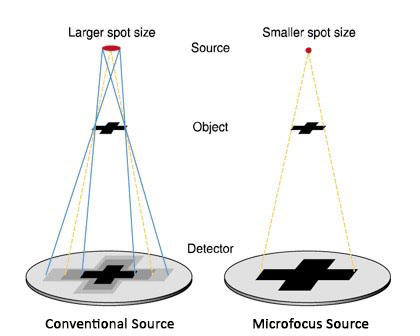 With a post size of just 0.2mm, the µGEMX provides the sharpest possible images. The extremely small spot size avoids geometrical distortion when inspecting curved objects like pipes.
It also enables you to apply geometrical magnification in the field, thus expanding your asset management capabilities.
Ultimate Portability
The µGEMX has been designed to be taken and used anywhere. It's compact size and light weight make transportation a breeze.
The generator can be powered by either a battery pack or mains power via the universal power supply. The µGEMX now feature the latest technology LiPo batteries which represent an increase of 60% over previous technologies.
Finally the 360° handle allows you to shoot in any direction.
Operation in Hazardous Environments
For inspections that need to be carried out in hazardous environments, or in difficult to access locations, the system can be operated via ethernet connection or by wifi.
Fully Digital Solution
The µGEMX frees you film processors, chemicals, film and trips back to the lab. Using a digital flat panel, you can capture and view images in real time. This allows you to get your shot right first time, every time.
The powerful Maestro software allows you to view your images in real time, as they are being acquired. This allows you to refine your exposure paramaters on the fly to optimise your radiographic image. You can also manipulate your images while out in the field to reveal any flaws. This allows you to make informed decisions immediately if you identify a potentially catastrophic flaw and to take swift action.
Try doing that with film!
Applications
The µGEM has wide applicability across the field of industrial NDT. Some examples of where it can be used include:
Aircraft and aerospace inspection (designed with BAM and Airbus to meet in service aviation requirements)
Power stations
Chemical and petrochemical plants
Oil refineries and pipelines
Boilers
Automotive and motorsport
Engineering structures
Art and conservation